FO: Snowdrop Shawl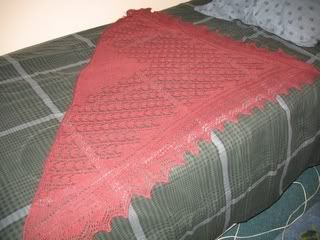 Pattern:
Snowdrop Shawl, by Stephanie Pearl-McPhee
Yarn:
Knit Picks Shadow
, in "Sunset Heather." (100% merino)
Needles:
4.5mm Addi Turbo Lace Needles
Mods:
None (wow!)
The Making Of:
Pattern
-- This was my first laceweight project, and my first shawl. I'm hopelessly addicted now, and I'm already drowning in laceweight! The pattern is great for beginners, because it's an easily-memorized repeat, and purling back across the back. I love the i-cord bindoff along the top, and the clean but sturdy edge it makes! I think the skeleton of this shawl will easily become my shawl recipe.
[NOTE: The edging was a
pain!
, but adds so much. I'm glad I did it!]
Yarn
-- I've already ordered more! The heathered yarn looks amazing in almost any light. Under natural sunlight the blue and gold and purple fibres in the predominately burgundy yarn really pop. This is a truly gorgeous Autumn shade! The yarn knit up well and remains very soft, not at all scratchy. It blocked quite comfortably, too, and remains sharp even after heavy use the last couple months.