August 7th will be remembered in the great days of my life. After the crazy ordeal in the airports, I showered and headed back to The Loop to spell Mimi off so she could start setting up at the Lord Nelson for the Yarn Harlot event. Naturally, no one came in after 5. I bet you know where they were camped. No last-minute yarn purchases were required, and 45 minutes later I put the sign in the window and took off, slipping into a corner seat with just enough time to exchange joyful looks with Rho and steal off to the bathroom to switch shirts.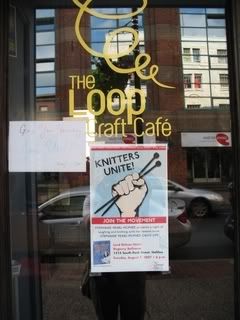 You can't see it, but the sign says "Gone Yarn Harloting. Join us! Hurry!"
(For those not in the know,
Knit Out Loud
made shirts for the event. More properly, illustrator extraordinaire
Rhonda
made shirts with her team of elves. Rhonda is wicked awesome. Her
elves
aren't bad either.)
My photos of the talk are pretty sparse, though I managed to catch the whole thing on video. The actual picture is not fantastic, but the audio came through well. The video on my camera kept timing out, so there will be weird leaps every 3 minutes, but if there's anyone who missed it, there is still hope.
[I've dropped her a note to see if this recording is kosher. I can't recall any warnings to the contrary, but I don't want anyone in trouble about this. I won't be sharing it until I hear back.]
In the question time at the end, I asked what I should say to my miscreant Shawn when he mutters against "Crazy Yarn Ladies." Her reply was clever and obvious: Take away his yarn. He was (unwisely, I suppose) informed of this, and is now living in fear of my vindictive ways. Let him fear.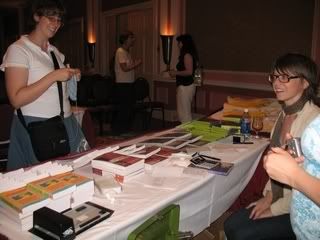 After the (lovely!) talk, there were door prizes handed out, and then Mimi and I manned the book table. There was definitely some OMG-I-NEED-THIS-BOOK-NOW-BRAINS-GHRREAAH! going on at first, when frantic people were thrusting credit cards at us and seizing bookpiles. After the initial surge, it was all pretty cool, and Mimi and I hit our seat-of-the-pants bookselling stride. Due to the sudden demand and the crazy schedule mishaps, we hadn't had a moment to discuss how we were going to go about selling the books, and though it didn't go as we expected, it went very well indeed. A
huge
thank-you to those who waited patiently in the line for books. So much love to you!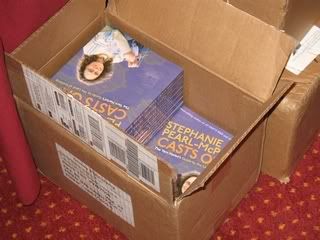 The Harlot Line snaked back through the room, and she dutifully did her author thing.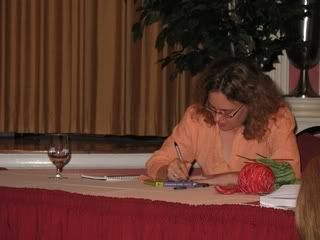 The clever KOLers hung back to attack her
en masse
, doing what they do best.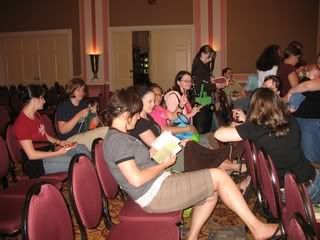 Henry got some Harloting in, and
Moe
gave Stephanie some goodies. Yes, that is a real life green KOL shirt for her on the table.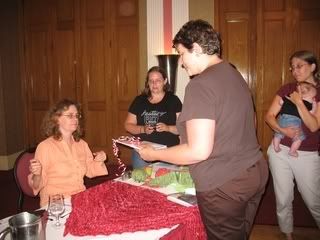 Deb had some treats for Stephanie, too. (Gabe can be seen, exhausted from his exciting day rubbing elbows with the Knitting and Famous, in the arms of the lovely
Cate
.)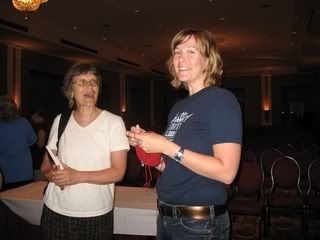 J. kept busy, hobknobbing with not only the Yarn Harlot but Ilga Leja, and knitting beautifully the whole time. (She was swatching for that hat before the talk!) Unfortunately, I managed to make both Ilga and J. look quite odd in this picture. I'll pretend it was a clever artsy move.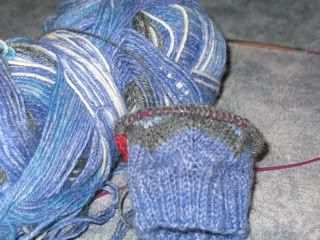 I had cast on this pair of
Jaywalkers
at the store before heading over to the Lord Nelson, and that is how far I got during the talk, despite hands that shook with excitement and my attempt to reinvent Magic Loop knitting because I had neglected to bring a photo of the process with me (this being my first time using circs on a sock).
I eagerly await the Halifax update on the Yarn Harlot blog, and I hope Stephanie enjoyed her sadly brief stay in Halifax as much as we enjoyed having her here. It's entirely possible we overlapped at terminal in Pearson for a while, and I did look around for her. How perfect would it have been to have cautiously approached and announced Shawn and I were the advance welcome party! Still, the woman was just trying to have a cup of coffee or six, and it wouldn't necessarily have been welcoming at all to invade on her last moments of pseudo-privacy. Alas! And then there would have been awkward conversation, and "I think my gate is calling me!" It all worked out.
I didn't make it back to the Victory Arms to have a pint with Stephanie, Tim, and KOLers, due to wrapping up bookselling fun at The Loop. From the pictures, it looks like it was a great time, and I'm sorry I was so antisocial! The good news is that when I left Mimi and I were fairly confident that we hadn't utterly botched the money-for-books thing, which is always nice.
All in all, a great memory of a wonderful time. Cheers!