Just ignore Elisabeth's lies. She just makes up stories sometimes... it's really just best to humour her, smile and nod, and perhaps even pop in with the occasional "Oh, isn't that nice," if you're feeling adventurous.

Now, where I left off last day the conditions were as follows. The setting was the library steps at King's, late Friday afternoon. My Hufflepuff scarf was a bit behind Elisabeth's Ravenclaw; however, Elisabeth had a hat to finish before our deadline of sometime on Saturday when we'd go see Order of the Phoenix.

We furiously knit away the evening, and when the opportunity came up to go out to a pub with a hard-to-get-a-hold-of friend of ours, we agreed, but as the committed knitters and unyielding competitors we were, we both brought our projects with us.

If we got any odd looks for knitting in a pub late on a Friday night, we did not see them. Our eyes were focused on our knitting. Elisabeth was still working on finishing up her hat, so I was free to catch up as much as I could in the little time I had. Of course we also socialized with our friend and did not neglect her, but both Elisabeth and I knew that our deadline was looming, and neither had the intention of losing.

Unbeknownst to me at the time until it was discovered the next morning, the yellow ball of yarn for my scarf somehow in either a desperate bid for freedom or a causality of kinematics slipped out from my backpack and had to be retrieved later. Thankfully it was found and kept by the staff, and shortly found its way back into my possession. Personally I suspect sabotage by a certain Ravenclaw-ish individual...

The rest of the day was occupied with zealous knitting by the two of us. We had decided that a 6:50 showing of the film would be best for us, and so our deadline had numerical form at last. Just hours away from the showtime and with Elisabeth's scarf on its last block of colour, desperate thoughts revealed themselves from shadows in my mind.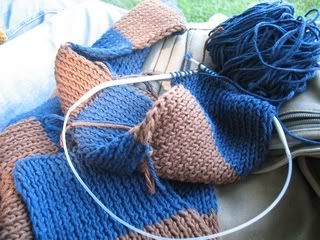 Elisabeth's Ravenclaw scarf. What is to be done?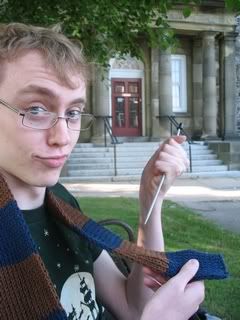 Some would contend that stabbing a piece of knitting with a knitting needle would hardly be lethal; but I think the secret is in the wrist
In the end I could not bring myself to commit the deed, and Elisabeth's scarf remained unstabbed. Now, there is some contention about the next series of events. And indeed, perhaps we shall never know what truly happened... some time after the nigh-stabbing incident Elisabeth claims she bound off, and although we plan on adding tassels later, the race was to bind off. She claimed she had won, and began to celebrate.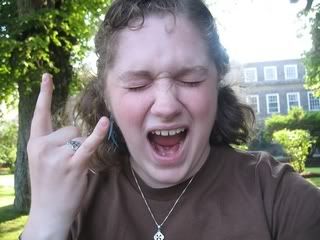 The face of a cheater?
Others were not so convinced that any victory had taken place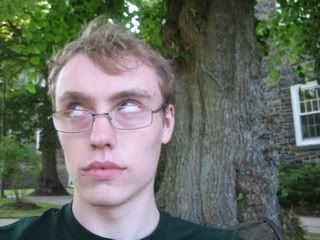 The face of incredulity
The technicalities of this '
supposed
' victory are still under investigation by committee, so it is not just to say that Elisabeth/Ravenclaw won over Me/Hufflepuff. On account of what, if I may speak freely, I am sure was a complicated team of knitters working through the night on Elisabeth's behalf, I was still working on my scarf when the theatre lights dimmed too low to continue.
After a very wonderful movie, we moved out of the theatre and Elisabeth prompted me to wear my not-yet-finished scarf out as we walked home, so I did so. not having anything else to do with my hands, and the needle still being in the scarf, I knit as we strolled home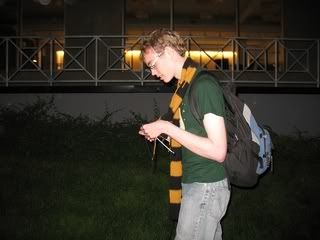 Ambulatory

AND

knitting prowess
The next day I finished the few remaining rows of my scarf, and pending the aforementioned committee's findings on the matter, won the race began late Tuesday night. Or came second place. But let's not get into all the minute details here and now.
In any case, I now had a Hufflepuff scarf before me, so majestic posing while pretending I was an aviator was obviously my next course of action. And yes, I'm sure many Hogwarts graduates go on into careers in aviation. It probably just involves more dragons.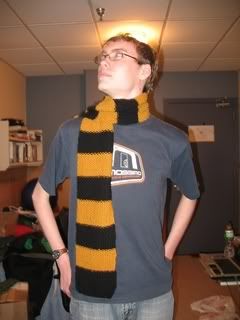 Elisabeth might claim that there's a cieling lamp behind my head, but I'm really just that awesome
And so concludes the great Hogwarts house Scarf Race of 2007. In the end, in deference to the wise words of one Albus Dumbledore, I decided to put aside the rivalry that the contest had wrought, a division that had so driven apart the noble houses Ravenclaw and Hufflepuff, and embraced a unity of all Hogwarts [Or half of it]. And after all, isn't that the true meaning of randomly knitting scarves based on a children's book series in the summer in time for the release of a film adaptation of one such book?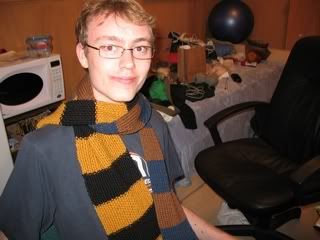 I think it is