My blog performance has been absolutely disgraceful. The first step is admitting you have a problem, and, as Dad would say, "Buck up." Consider this my overdue up-bucking.

Summer is progressing steadily, and I'm only just getting the hang of this four-month summer business that is so foreign to my 12-year-old mind. It's approximately the halfway point, though the savings I had hoped to accumulate by this point have been mostly drained by school fees (they suck you year-round!) and plane tickets to my parents' house in early August.
(There might also have been some gratuitious yarn purchasing which affected the savings, and there might even be evidence of that in this post, but if you mention it I will still pretend not to know what you are talking about.)
The good news is that I have finally figured out how to live on a much reduced grocery list, so that foolish fund-drain will be appeased. Incidentally, I will be the queen of canned soup!

Shawn and I took a walk down to the Northwest Arm today, got caught on the end of a dock in the rain, and took refuge to watch the deluge. Our sheltering tree failed us almost immediately after this picture was taken, and we were thoroughly soaked by the time we traipsed back to King's and the dryer. Still, it was an enchanting sight.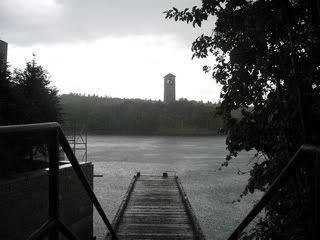 My floormate has moved out, leaving me a Box o' Cool Stuff to peruse, enabling my packrat lifestyle (alternately, I like to call it "minimalism impaired" or, on an particularly indulgent day, "prepared for the apocalypse and/or roving bands of children.") Though there was a lot of nifty stuff, the real prizes were, naturally, office supplies! Four snap-ring binders, a 3-hole punch, and 1100 ruled index cards in white, yellow, and blue (Latin flashcards, here I come!) have entered my protective embrace, as well as some tealite holders, a stripey vase, a sock yarn-sized basket (score!), and one of those plastic drawer things to help me hide everything I just got. Another gem in the pile was
this book on egg decorating
, which I hope to delve into for the Handcrafting Initiative next year.
In other news, the divine
Heather Dale
is in town on July 11! I missed her last time she was here, so I very much hope I can make it to this one. I won't know my schedule for that week for another few days, though. To folk/Celtic music lovers who can make it, I highly recommend her stuff.
Shawn's first online yarn order arrived on Friday from Knitpicks, and he poked it this weekend. I had some laceweight arrive with it, so I will blog about my new acquisitions, and let Shawn detail his own at his leisure.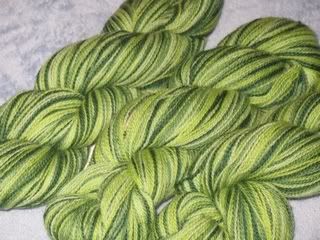 Knit Picks Gossamer
100% Merino, 440yds per 50g skein
Leprechaun
Though it may be tricky to find a suitable pattern for the colourway, I just couldn't resist the adorable name. I've worked with Gossamer in the past, and it knit up very nicely on my Addi Lace needles, so I'm looking forward to trying this one out.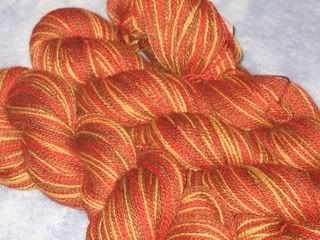 Knit Picks Shimmer
70% Baby Alpaca, 30% Silk, 440yds per 50g skein
Maple Leaf
Though the fiber content itself was luscious enough to get my attention, I fell for the colourway name (again). I'd really like to make something like
Lucy Neatby's Maple Leaf Lace
with it, but I've got a few other things in mind, too.
Tune in next time for: muffins! A beached priest! Snowdrop Shawl! Spinning content!