Now that Shawn has twisted his truth sufficiently, the regularly scheduled blogging of truthiness can continue. (What he meant to say, with that long-winded account, was that I totally won. In total. You know.) Whether Shawn will be making his appearance at KOL in the future is iffy. He may have uttered something like "over my dead body," and then whimpered something about "craziness" and "yarn ladies." Clearly, he is prejudiced. I don't know any crazy yarn ladies. Do you?

In honour of the Harry Potter book that is going to hit fandom tomorrow like an atom bomb, I give you...


Star Wars: The Knitted Boba Fett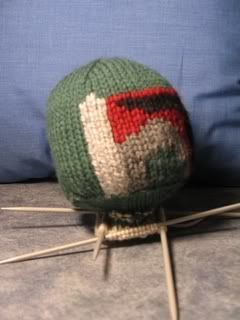 What? You say Star Wars has no place on Harry Potter Day? Hush. I'm giving myself other fandom to tide me over until midnight.
I had a lot of questions about Boba, about whom I blogged for the first time in my
Things I Should Be Doing Instead of Rising to Shawn's Challenges
post. I didn't really mean to blog about him, originally, as he's a rather tardy gift for a friend, but...anyway.
The pattern? It's not out yet, but I promise that once I get all the bugs worked out, it will be up for you guys. The reason he's going so slowly is that he's not really a good portable project, and I get most of my knitting done not-at-home (my work at front desk, coffee shops, on the bus, etc.) He's been a lot of fun, though, and I have more plans where he came from. I hope to have the pattern all written up by September.
Boba had an interesting trip with me a few weeks ago, when I was testing his portability. I had never been to Tangled Skeins, a LYS across the harbour from Halifax, for those not familiar. There's a ferry that docks very near Tangled Skeins, and I packed Boba up for the trip.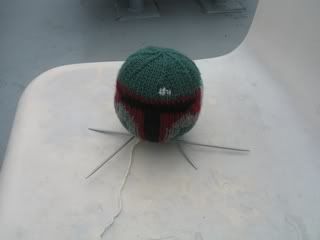 He got comfortable on a ferry seat, one of the only two on the top level of the ferry that didn't have a puddle in it. It was a muggy, Haligonian day, when it's about 143% humidity, but pretends that it doesn't know what that means.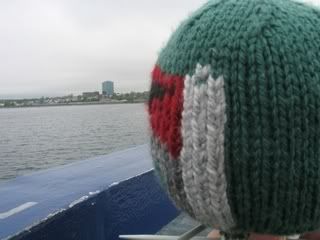 Remembering that Shawn was trapped in an office building on the harbour, Boba Fett decided to do a little reconaissance. He spied upon Shawn in his workplace.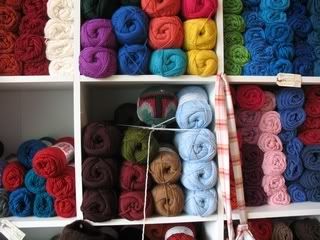 Upon entering Tangled Skeins, the bounty hunter slunk off to the worsted weights section and tried to blend in. He was quickly recaptured, to his shame. One really ought not to blame him--he hasn't yet been knit any appendages, so his ability to resist was severely handicapped.
I spent a long time inspecting the sock yarn, and while my back was turned the little bugger beetled off again. I can't really throw too much of a fit about this travel, though.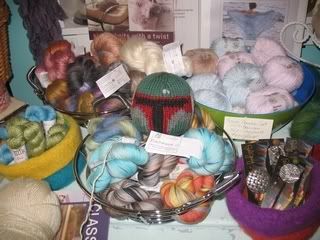 He hit up the cashmere.
-----
Have a great time with your Harry Pottering! I'll be working at the Loop tomorrow from 10-2, and I reallyreally hope nobody tries to be smart and shout out spoilers. Apparently someone has been putting up spoiler posters on lightpoles. They've been ripped down equally quickly by concerned citizens, but really, people. Be like Snape. Don't be evil. ;)
In a few short hours I will crack open my own Deathly Hallows! Eee!