Hello, world! Okay, let's see, what did I promise in this update?

Section A: FO! The Mystery Project Revealed!

Pattern: "Louise's Sock Pattern" in the size "Martha and Jamie."
Yarn: Patons Kroy Sock 4-Ply in "Glencheck." (75% superwash wool/25% nylon)
Needles: 2.75mm (US 2) bamboo
Mods: Fewer 2x2 rib rows (20 rather than 50)
The Making Of:
Pattern -- I love this pattern. My roommate gave it to me last year, and it's from her Louise. The Word document it comes in says that it is "adapted from [Louise's mother and...a couple of Paton's patterns." It is essentially 2x2 rib for the top, switching to 3x1 for the rest of the leg, then an eye of patridge heel, continuing the 3x1 ribbing on the top of the foot into the grafted toe. I used bigger needles (2.75mm instead of 2.25mm) and bigger yarn (4-ply, not 3-ply) than the pattern called for, but I was making socks for size 11 feet. I was pleased with the springiness and stretchiness. The socks made it over his ankles just right!
Yarn -- I'm not sure if I'm a Kroy fan, after this. It was my first foray, and I found the yarn had a very obvious halo for such a fine strand. I fear it looking ratty and pilled before too long. This colour, however, was exactly what I'd wanted to use, and the gray/tan/blue twist made a distinguished-looking sock for my lawyer-to-be friend.
The Story-- Before Christmas holiday I went down to a LYS and ordered some aran-coloured Kroy. After Christmas (and every few weeks after that) I stopped by at the LYS, hoping it might be in. No luck. As of right now I have yet to hear anything about it. I gave up and went the extra 20min to L.K.Yarns, which has something of a mini-sock-yarn-Mecca going on in the back corner. I chose this stuff (three balls of it, just to be safe), and sized up .75mm for the project.

Alas, I am an impatient knitter. Desirous to get to the heel--my favourite part--I made the leg far too short. I knit these socks constantly--in class, church, after meals in the cafeteria, anywhere that the recipient was not. Even so, my time was limited, and it took a solid month to churn both of these babies out.

The second sock was made with a proper-length leg, and you can see from this picture what a problem that introduced: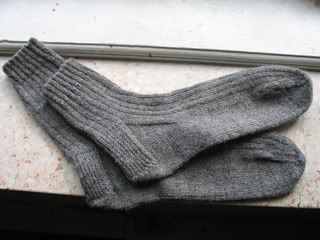 Of course, such a short leg could not be allowed! This knowledge, combined with the mad rib-grafting mojo I had left over from
Esmerelda
, granted me the courage to do this: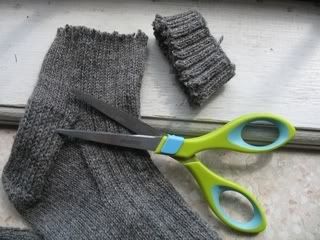 The damage done, I picked out all the little bitty threads that were in the way, and cast on the top of the first sock again, knitting down to a good grafting spot. I'm sure you can all appreciate, gentle readers, how much I regretted my initial impatience.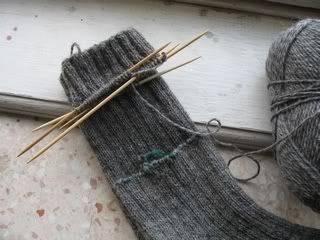 The grafting was begun shortly, and as I have failed in finding off-the-needle instructions for grafting ribbing, it involved the 'ole follow-the-yarn-path' grafting technique. This was slow going, and took a portion of several afternoons.
They were finally finished, and handed over, and photographed with...Shawn's camera? At any rate, I don't have the very final pictures, as they were packed up and given away immediately upon end-weaving-innage. I must admit to having been incredibly proud of the seamless grafting that resulted from my perilous venture.
The Gifting:
My friend was
thrilled
! He is one of those gems who has a deep longing for wool socks, and truly understands the effort put into handmade socks. He had pestered me on and off all year for a pair, and every time I told him it would be too time-consuming, and I had other projects. He was graduating, and I probably wouldn't get them done in time, I explained. But lo! A graduation gift! He was thoroughly surprised, and wore them the next day as he moved out of King's Residence for the last time! Success!
Section B: Elisabeth Moves A Whole Bunch!
Naturally, as my stay in 305 Alexandra Hall drew to a close, I had to move out. It was a
lovely little room
, with an
excellent view
, but it was time to move on. My employers had told me that I could choose any room in the basement as my living quarters for the summer, and since the students working Grounds and Maintenance for the summer were allowed double rooms to themselves, I blithely scoped out the basement rooms, choosing a double room near the stairs (so as not to be down the Long, Dark, Goblin Tunnels of Moria and Ghostage). It just so happened, to my great glee, to be the only residence room in the basement with its own half-bath, and a walk-in closet, so I was looking forward to a very spoiled Summer stay.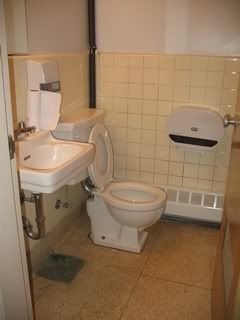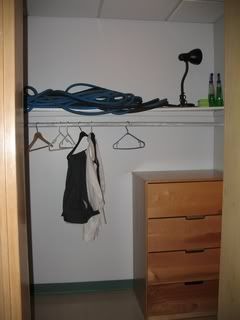 Shawn carried 90% of my stuff down three flights of stairs (including my poor, Dying-of-Old Age desktop computer Dobby, with whom he has a somewhat strained relationship). With his help, this bare and somewhat chilly basement room was transformed.
Before: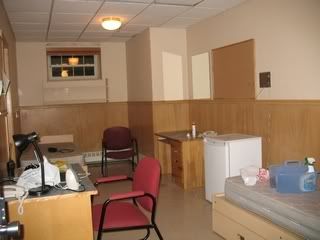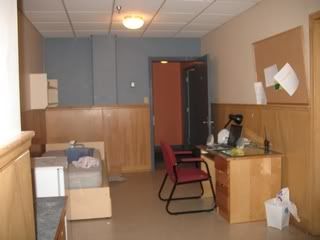 After: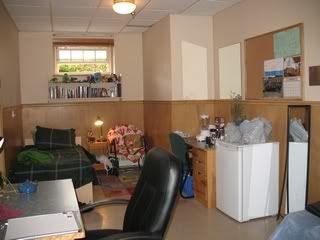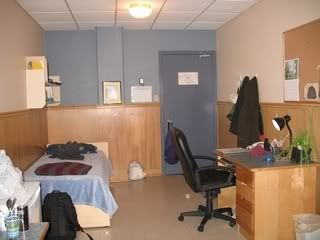 It was cozy. It was like a little bachelor apartment. I had a kitchen (complete with cuboards and pantry) on the extra desk, a little bedroom hereafter referred to as the "Nook," and a living room, with the extra bed as my couch. I even separated my books, moving the "respectable" schoolbooks and philosophy to the more public "living room" shelf, and keeping my Terry Pratchetts and "B is for Bethlehem" nearer my bedside.
Unspeakable luxury. Then tragedy struck.
You see, explained my boss, we need that double room for a large booking we have coming in. Middle school band camp, you understand.
No, says I. You said I could have any room. I...I just moved! Woe!
Apologetic smile, says Boss. You can move back after they go.
I secured her promise on that point, and then, I moved.
To the single room next door.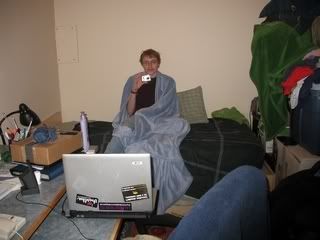 It was...considerably smaller. Perhaps a third the size. And of course, it contained no in-wall closet, and no bathroom. These I could live without. This was a curious room. The ceiling was much more distant from the ground than any of the walls were from each other. It created the illusion of largess by adding useless airspace 12ft over one's head. As Shawn noted, it would be a lovely room in which to display one's model airplane collection, but for ground-living, it was very cramped indeed. In the picture above, there is a mountain of Elisabeth's Belongings boxed, piled, and held down with the clever use of blankets. I succeeded in not having it fall on anyone during my weeklong stay.
Yes, that is correct, I lived in such disorganized squalor for only a week before I could return one door over to my palace again. I was fortunate enough to have Shawn present at the time, and he, the expert mover that he is, helped me to transport all my earthly possessions back into the Hidey-Hole to which I had previously become too-quickly attached. As far as I can tell, it is mine for keeps now, or at least until I move into my new room in September. Though it is in some disarray right now, with all the boxed/unboxed/reboxed stuff everywhere, my Nook has been returned to its former glory. I am pleased, and At Home.
Goodnight!