'Allo, dear blog! Here I am, at long last. I blame my new friends at Knit Out Loud for the compulsion to write. I've been picture-taking diligently for the last couple weeks just to have blog fodder, and I haven't been posting them. This means that today will be an enormous post. As a result I shall once again push the Unveiling of the Mystery Project back a post. It's for your own good. Really.

Okay, I'll try to go in chronological order, more for my own sake than yours.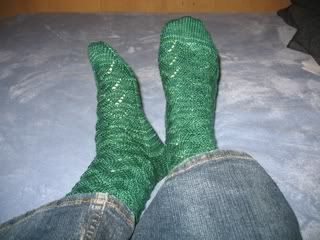 FO: Monkey SocksPattern:
Monkey
, by
Cookie A.
Yarn:
Celestial Fingering Weight Merino
by Lucy Neatby, in "Bottle." (100% hand-dyed merino)
Needles:
2.75mm (US 2) bamboo
Mods:
I couldn't tell in the picture if the stitches along the side of the foot after the turning of the heel were twisted or not, so I decided to twist them on a whim. I also did only 6 repeats of the pattern on the leg of the sock, rather than 7.
The Making Of:
Pattern
-- These socks just flew off the needles! They were a joy to knit--the pattern was easy to memorize and made the knitting go very quickly. I was able to watch the entire Eccleston season of Doctor Who whilst knitting these, and they traveled well, too. I'm definitely going to make these again!
Yarn
-- The yarn is a dream in your fingers. It looks thicker than a usual sockweight, and it is, though if you knit it more tightly the yarn is very springy, and will squwoosh into a smaller stitch. I usually like thinner fabric than this for socks, and next time I will probably go down to a 2.5/2.25mm needle. I had a solid colourway, but there was still a noticeable variation in the colours (a charming, deliberate effect). The variation made the pattern a little less noticeable, though a thorough blocking might be more useful to make the simple lace "pop." They're a little bigger than I would like, too, as I have pretty small feet. For my size 7 (US/CA) feet, I used about 75g of the two 50g skeins I purchased, and I'm looking forward to a lovely small something I can create with the rest of this. If the colour in the photos looks much more vibrant than the shade card in the yarn link, it is accurate. This yarn caught my eye because the green was so deep and so alive. There were two different dyelots of this yarn, but both had the same vibrant colour.
And I had my first taste of how difficult it is to photograph socks properly!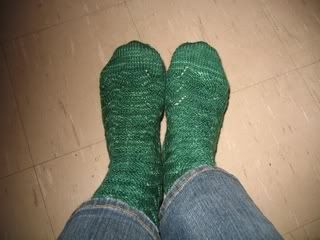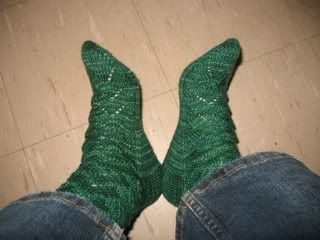 ~~~
My KnittersTreat packet has arrived! Many, MANY thanks to
Stacey
for her kind gifting! It truly was a treat!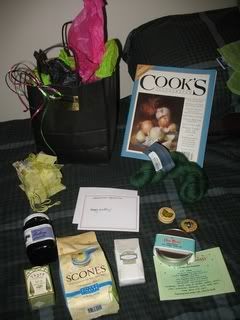 Enclosed:
3 lovely-smelling sachets (currently in my closet and dresser)
a jar of Maine blueberry preserves (delicious!)
a tuberose votive candle
"just add water" scones mix (yum!)
a handmade bar of soap (to be used as soon as my icky dispenser is through)
a tin of tea from a cool-sounding artists' shop
Burt's Bees cuticle and hand salve tins
a skein of deliciously soft Bearfoot Varigated in "Olive," though it's more of a Shamrock-y shade.
A Cook's magazine
I am
thrilled
! The scones were Sunday's lunch. Shawn, myself, and several of our friends got together and gobbled them up, topped with the excellent blueberry preserves. I have yet to perfect the amount of tea to put in my tea ball, but what I have had so far has been very good indeed. I've never seen a magazine like the Cook's one before, and it has some really great recipes, including a parmesean chicken one I'm tempted to make this Saturday when Shawn's over. The knife and cheese grater reviews were suprisingly interesting. I had no idea such a world of chef-ery existed!
The rest shall be put to good use and subject to much admiration. The candle pre-lighting smell delightful, and I can't wait to wind up the skein and make me some socks! Thank you again, Stacey!
~~~
There has been much moving of Elisabeth in the last two weeks. I can't fit it in this post, so I'll leave you with a tantalizing photo of Shawn in the least pleasant of my rooms, trying to get us some fresh air.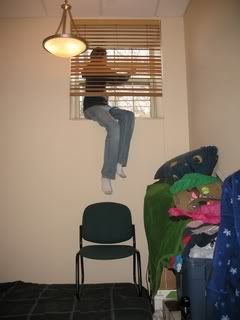 ~~~
And finally, my first Knitting Out Loud with the Halifax/Dartmouth knitters! They meet every week at the Wired Monk cafe, and I will be quite happy to join them whenever I can. I showed up quite nervously, but
my
greeters
made me feel welcome in the least awkward way possible. We pulled out our knitting, chatted, and I tried not to tell too many stories about people nobody knew. I'll try to be more witty next time, girls. ;) The
rest
of the
crew
who could
make it
were also lovely, and I was very quickly put at ease.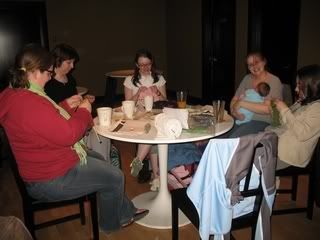 So friendly were they, in fact, that I didn't even cry in front of all the new faces when I found a knot in the Sirdar Cotton I'm using for my
Tendrils
, even though I spent all of my overnight shift several days ago stringing the beads onto the new ball of yarn. I just couldn't deal with doing it again, so I pulled out my backup project, "Sock-From-Hell," which I have til now called
Cablenet
. It takes so long to do a round, due to all the cabling, and the stitches are so small that cabling without a cable needle creates the tightest stitches in the history of ever (you think I exaggerate, hah!). I just use my extra dpn to cable, now, and it's actually going faster than cabling without the cable needle because I don't have to fight and cry for every stitch.
I'd somehow futzed the pattern, so I ripped back a few rows to where I knew I was correct, and went from there. Didn't get much inchage done tonight, but it's amazing what some company can do for the mistake-fixing end of things (whether it's the company's knot-in-yarn gaff or my own chart-reading skillz). I think Cabledemon Sock is back on track, so yay!
~~~
I then talked to my sister, who was officially the first to wish me Happy Birthday
on
my birthday (12:00:46ish!), and then went on a finding-people-from-my-past Facebook spree, joining groups for my elementary schools (Eugene Vaters Collegiate, Ecole St. Patrick, and Brinton Memorial, all in St. John's, and the Lycee Francais de Jerusalem). I found so many old classmates, some of which shaped my life in slight but firm ways (Jamie Piercey taught me the macarena, I married Stephen Glassman in the sandbox when we were four, and Juliette Delay was the elegant English-speaker that got me through Grade 1 at the lycee!). Found some people from my Sunday School classes, too. Wild. :) I realized how few last names I knew when I was younger, too. There are people I would love to find, but they look so different now than they did 15 years ago, and the pictures are so small...it's hard to tell. I just hope they remember me enough not to freak out about who this weird person is, friending them.
All right, off to bed! Cheers!
Next update: The Mystery Project Revealed! [and] Elisabeth Moves A Whole Bunch!