Ugh, first day of my summer job today. I'm working at the residences at King's, which should be mostly deskwork after the initial setup. During the summer the residences become something between a hotel and a youth hostel, and that means we did a lot of bedmaking today. We did all of Alex Hall today--probably about 150 beds? Tomorrow we do the bays, which will be another that many, except up and down stairs instead of in halls. Ick. So sore!

However, my day was made when I received my Knitpicks package! Essential in Grass, Dusk, and Burgundy, and Shadow in Sunset Heather. Lovely!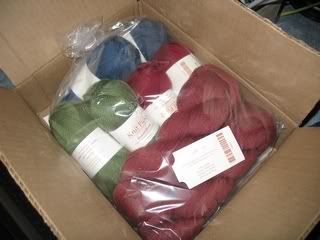 They're both so
soft
! I expected as much from the Shadow, but Essential was a nice surprise after working with the Kroy 4-ply that I used for the Mystery Project (to be unveiled in the next post!)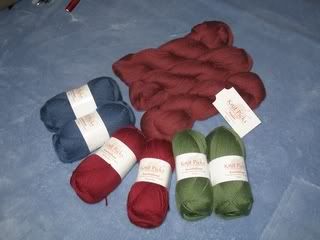 Alas, I cannot cast on any of the new yarn until I finish the Monkey socks. Those are going quite speedily, and I think I'll spend a quiet evening with Dr. Who tonight and turn the heel.
My pal in the Knitters Treat Exchange has reported a sending of my treat parcel, and I'm one magazine short of my own treatee's sending. Whoo! All this just in time for my birthday!