I realise that something happened somewhat recently that has not yet graced my blog: The Loop's 24-hour Knit-A-Thon!

M contacted me at the beginning of March, telling me that she and some friends were working together with The Loop to have a Knit-A-Thon where we would knit for 24 hours straight and give the FO's to charity! I'm on the executive of the St. Andrew's Missionary Society (SAMS, the King's volunteering group), and she was wondering if we had ideas for where to send our donations. A little while later I poked the Loop's website and signed Shawn and I up for an afternoon slot. When it became clear that everyone wanted an afternoon slot, we also resolved to go back after my Patrol shift at King's was done--2am.

Check out the yarn that people donated!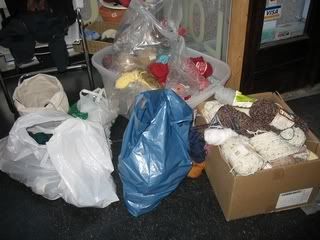 The group was lively, and the conversation got increasingly silly as we wearied. (You'll see
Geekzilla
in the red sweater.)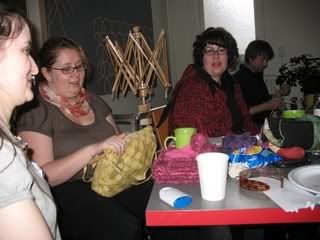 Shawn made some friends on our way down at 3ish AM, and he made a lovely 2x2 rib hat out of some mohair/merino/acrylic brought by Corrie (the webmistress and friend of
Lucy Neatby
, and a fellow knitter that afternoon!).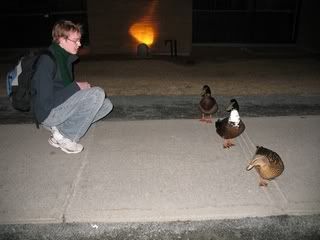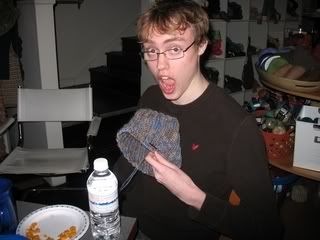 At 10am the next morning Shawn and I set out again, allowing new blood (and a very dedicated Cathy and Bill!) to keep the vigil.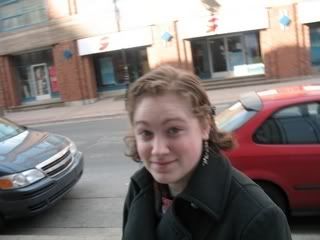 At around 5am Cathy (bless her fingers!) decided to give everyone who was there a door prize, which was, naturally, the whole point of being there. ;) Shawn got a gift certificate to The Freak Lunchbox, a local novelty/bulk candy store, and I got a skein of Manos Del Urugay, some Clover 9mm needles, and a 25m skein of handspun from Cape Breton. Whee!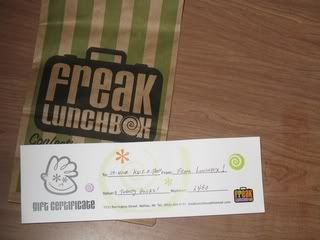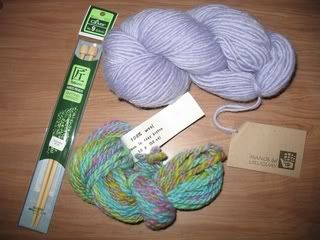 The
real, actual
point of being there is best described in numbers and pictures:
11 scarves (some knit, some donated before the event)
8 pairs baby booties and mittens
6 pairs adult mittens and slippers
13 kids or babies hats
26 adult hats
2 headbands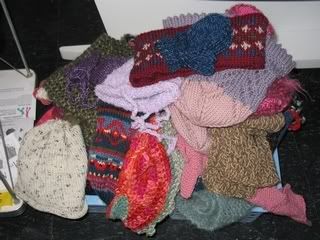 And it went so well that The Loop wants to make it an annual type of thing, so success not only for this year, but years to come! Huzzah, Halifax knitters!