Apologies for the long break in posts--the end of term is going to be upon us (is it two more weeks of classes? Crazy!) and I've had two papers this week. One a week for the next three, then some exams, and I'll be free to knit all day--when I'm not slaving at my as-yet-undisclosed summer job.

I'm poking around for good album I can embed/link to without too much commercial goop around the edges. I'd like to slip my FO's in there, specifically the ones that I'm not really emotionally invested in, but which pre-empt my Fun Knitting all too often: the commissioned knitting I do. I promise I'll say something more profound about it, but it's the Dead of Night, and I've got to wrap my mind around Aristotle and the Epicureans tomorrow morning. Hah!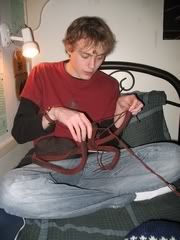 To make this post not-altogether-bare, I'll leave you with pr0n of Shawn's knitting prowess. Last I blogged he was working on the strap for his
Satchel
, but since then he has finished the strap, cast on 100 stitches and knit for 20 rows, and then picked up stitches all around the edges of the rectangle and begun to knit these 240 stitches in the round. It's at least a good 50 stitches too big to make him a sweater, and still he's plowing through it. The man will be ready for a sweater in no time! I've been trying to convince him to make
Leo
since before he could knit, but only because it's the sexiest and simplest free pullover pattern I've seen. Rawr!
The careful observer will have spotted Shawn's project bars increasing as he breezes along. Indeed, the newest knitter in my acquaintance has been putting me to shame! Shame, I tell you!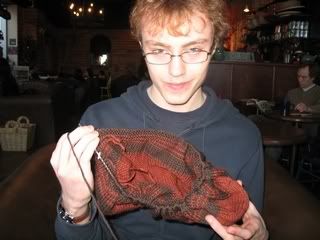 He came out to his extended family as a knitter on Friday, when we went to supper at his uncle's house. They were delighted, though oddly disparaging in their projections of his colour choices and fashion sense. For someone as attentive to detail as Shawn, I find this disturbing, but nevertheless, families have been mistaken before.
The colours Shawn picked for Satchel were "Russet" and "Chestnut Brown," though we didn't get enough of either. When we went back to L.K. Yarns to pick up some more, we got the last ball of Russet and couldn't find any of the same dye lot of Chestnut Brown. (In fact, we'd lost the ball band and aren't even certain it
was
Chestnut Brown, as that colour seemed more like a Dark Russet than its own colour. In resignation at our own lack of foresight, we snagged the Dark Russet/Chestnut Brown, and Shawn worked it into the pattern as if he'd meant to change colours all along. It really does work, I think. Alas, those pictures are still on my camera. I'll upload them tomorrow, when I tinker more with albums and post a bit about the commissioned knitting.
Cheers!