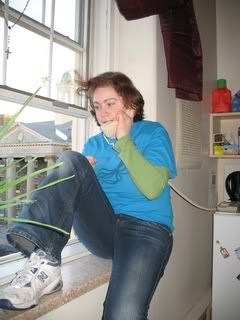 1. What's your favourite type of yarn?
Fingering weight or laceweight natural fibres, especially Merino or Alpaca. Silk is lovely. Sock yarn makes me weak at the knees, but I buy almost exclusively superwash--my dorm lifestyle does not allow for much handwashing, and also, I'm lazy.
Colour-wise, I love subtle variegation, especially for larger lace projects. Self-striping sock yarn is lovely, but I also appreciate a single colour that really showcases lace and makes cables pop. I usually gravitate towards shades of blue and green, from navy to teal to grass green, but I appreciate sunrise shades and greys as well.
2. What's your least favourite type of yarn?
I don't work much with cotton because I don't like the blocky, dry feel of it. Novelty yarns (eyelash, chenille, even boucle) put me off, as I can never think of a non-tacky way to incorporate them. I'm not a big fan of slubby yarns, either, or thick, scratchy singles. Neon colours, especially orange, frighten me.
3. What's the first thing you do when you visit a new yarn shop?
I automatically seek out any locally spun/handpainted wool, and then trip over to the sock yarn. Petting is tantamount.
4. What other crafts do you do / would like to do?
I've purchased a spindle, though I haven't actually figured out how to use it yet, and this summer I will be experimenting extensively with carding, spinning, and dyeing so that I'll have the experience for a crafting programme I'm running at my university next year. I've done a small amount of sewing, making Renaissance Faire garb and bags, and I've dabbled in cross-stitch.
5. What magazines do you currently subscribe to?
None.
6. Put this type of magazine in order of preference:
Knitting / Home / Food / Other Craft / Fashion / Garden/ Celebrity Gossip / Crochet
7. What items do you like to knit?
I love to make lacy socks, wraps, and shawls. Beaded lace is always exciting! I'm on the search for the perfect shawl pattern, and I'm intrigued by Faroese techniques.
I can never just work on fine projects, however, and I love a strong, intricate cable or Celtic knot in some worsted weight Merino. I've made Mariah and I'm eyeing Rogue. I knit fair-isle hats on commission.
8. Are you allergic to anything?
Nope!
9. What do you like to* smell of?
(*This is not a typo. The question is: What do you like to smell of)
In the winter I love a strong cabin-y or food-y scent: cranberry, evergreen, baking, woodsmoke. Now that spring is coming along, I want to throw open the windows and let in the breeze, especially ocean, field, or floral scents. Cinnamon, vanilla, and lavender I find very cloyig, but fruity things--citrus or melon--are lovely/
10. What's your favourite way to relax?
Tea! I almost always have a pot of tea brewing, both teabag and loose leaf. I like strong, sweet fruity blends, and the classics like Lady Grey or Constant Comment.
If I'm going to have a "Me Night In," I'll put on some Celtic music and a pot of tea, light the candles, and give myself a pedicure or knit. I love audiobooks. I've been doing less and less book-reading lately, as I haven't perfected knitting lace whilst reading, but I miss the stories.
11. You're stood in front of a Victorian style sweetshop, an Italian cafe, an old fashioned bakery and a dainty tea room. Where do you go first?
To the bakery!
12. What do you come out with?
At the bakery I'd get some sundried tomato bread with cheese melted to the top, or some cheesy croissants.
13. Where do you go next?
The tea room, definitely. I'd get a pot of blackberry tea and sit near a sunny window or outside to knit.
14. Any other words of wisdom for your pal?
A ready "Thank You!" in advance! I'm not actually as picky as I sound, so please be creative and share with me what you love! I wish you a lovely spring!