When I was in Egypt I picked up some interesting cotton yarn for next to nothing (I think this stuff was the most expensive in the shop, at seven Egyptian Pounds, then less than an American dollar). I thought I'd make a shrug out of it. I'd already made one out of a different yarn for a friend, and that had gone well. I never got around to the shrug, and when I went to put the beads I had bought on a fingering weight mohair I realized they were too heavy for the floaty fabric. Out came the cotton, and I did some quick searching for defined-stitch bead patterns. Knitty's Tendrils was a logical choice.

I was excited to get going, which will cause me pain when I get through the beads that I have already threaded. I'll have to unravel the yarn and slide the beads on from the other end...ick...but I should get three-quarters through the ball before I need to do that. I have two balls of the Sirdar cotton, and at not-quite-halfway through the first one I'm about 1.5' into the pattern. I've cut it down to three repeats of the beaded wave, which makes it a little wider than a scarf and not quite as wide as a stole. I actually have no clue how I will use it. It's been a great learning experience, though. This knitting-with-beads thing is actually pretty easy, as long as you don't mind extensive bead-putting-on time. I used a dental floss threader to put the beads on the yarn, as advised on several websites, and it was very useful! Dental floss threaders have taken up their place in my knitting notions bag.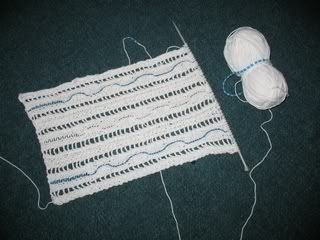 I have proof that the Brewery Market produces useful things that do not involve cider! After a few weeks in conversation with the friendly owners of a local sheep farm, I'm the proud new owner of a spindle! Handmade from birchwood, the same that they use to make their own knitting needles, in fact, the Yet-Unnamed Spindle awaits my little bag of roving and a great deal of trial and error.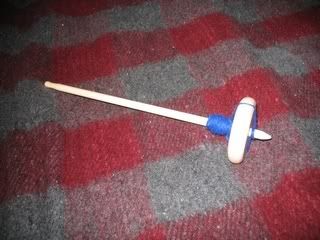 And a last pair of beautiful pictures, for the appreciation of my friend's Valentine's Day present. P gave them to M, requesting lilies over roses in his desire to be original. The bouquet is quite lovely, and I'm secretly rejoicing that she had to leave town so shortly afterwards, leaving it in my care. I fear that it will have wilted completely before her return, though, so I'm recording its bloom in her absence. A peek: