The world of knitting is one convert richer, as of about two weeks ago. My boyfriend, Shawn, had put "learn to knit" on his desktop to-do list months ago, and I finally buckled down to teach him. He took off.

We've started something of a habit (is two-times-with-plans-for-more a habit?) of going down to the Brewery Market on Saturday mornings, getting some cider, and then spending a good part of the day in Cabin Coffee, knitting. KIPping always elicits some attention, and a man knitting in public, well! Shawn's enthusiasm paid off, and he finished his First Scarf on our first visit to Cabin Coffee. Though it started out somewhat perilously (at his request I showed him how to increase and decrease, and this led to interesting shaping, and he wanted to see what happened when you laddered a dropped stitch...which he certainly knows now. ;) Ferdinand Archduke Simpson was bound off promptly, wound 'round the neck, and a new addition to the family was cast on:

Shawn figured out the long-tail cast-on pretty quickly, snagged some navy and red yarn, and got to work on a birthay present for his mother: a ribbed, striped scarf.
It went speedily and smoothly:
By Thursday night it was finished, christened
Esmerelda
.
Unfortunately, the christening did indeed involve libations, when a healthy amount of tea was spilt on it by a passing drunk student. In an attempt to dry the maligned Esmerelda, I placed it over a space heater, with predictable results: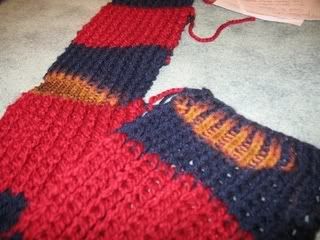 This called for repairs. I took a scissors to the burnt bits, then reknit the sections that had been assaulted.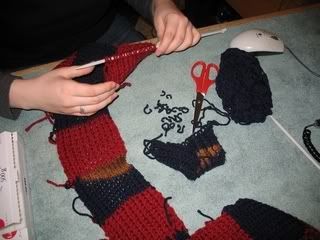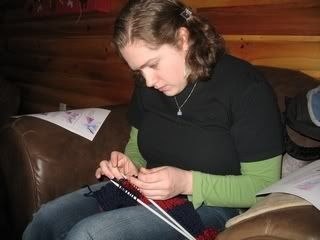 Unfortunately, my knowledge of grafting is tenuous at the best of times, and when the
god of knitting instruction
availed me not in terms of 1x1 rib grafting, I spent a frustrated day at Cabin Coffee, with little result:
I had a brainwave to knit with a contrast colour and observe the way the yarn went through the stitches, but it took many tries for me to wrap my head fully around the concept. Finally, last night, Esmerelda lay securely grafted next to her brother on Shawn's floor:
Spot-the-grafting?