Cabin Coffee this week was the site of yet another cast-on. Shawn is branching out from the scarf circuit (though he claims to have plans for an Indescribably Wonderful Scarf) and has decided to do something about his lack of knitting baggery. Knitty's Satchel seemed a likely choice, and the shades of Paton's Classic Wool were selected.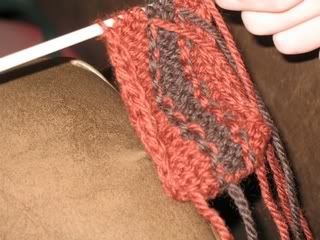 Naturally the striping will vary from the pattern (such as the stripe along the stap, above), and the needles, yarn, and stitch count are different, but the construction technique will be followed.
Here's his progress as of last night, pictured with the
Knitting With Balls
book I got him for Valentine's Day: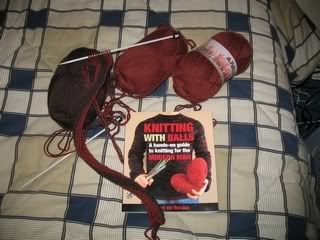 Inspired by his felting venture (which I have never before attempted), I've decided to knit Satchel, too, and took advantage of his new Addis (24", 5mm) to start the body.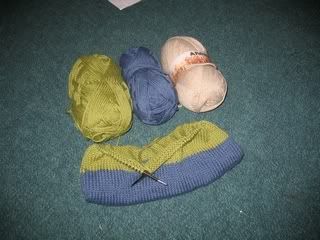 I've never used Addis before, sticking with my beloved inherited Aeros. I'm not sure if I notice much of a difference from the Aeros, but they do knit quickly!